In today's Times Union, find a coupon for $10 off a $75 purchase at ShopRite (accepted a most Price Chopper stores, too!):
And bonus gas coupons for Price Chopper! (those may also be printed HERE)
Want the Times Union delivered for next to nothing?
Groupon is currently offering a GREAT deal on the Times Union: 20 weeks of Thursday-Sunday delivery for just $20!
(Note: you must not have had a subscription in the last 60 days)
Albany Times Union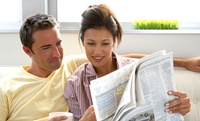 20-Week Thursday–Sunday or 8-Week Daily Subscription to "Albany Times Union" (Up to 83% Off)